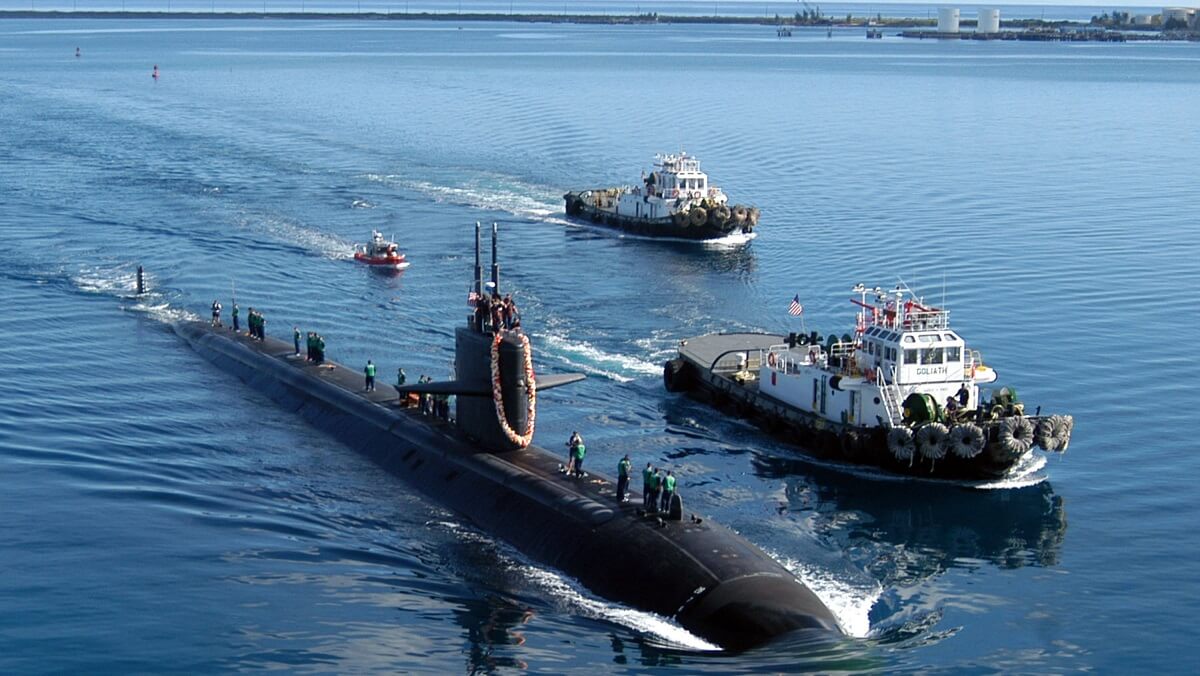 Nuclear-powered submarines may soon patrol the waters surrounding Australia, as the country has just struck a historic deal with the US and UK.
In the newly forged AUKUS partnership, Prime Minister Scott Morrison has made a deal with US President Joe Biden and UK Prime Minister Boris Johnson to share the secret nuclear technology.
"The first major initiative for AUKUS will be to deliver a nuclear-powered submarine fleet for Australia," said Morrison.
"Over the next 18 months, we will work together to seek to determine the best way forward to achieve this.
"We intend to build these submarines in Adelaide, Australia, in close cooperation with the United Kingdom and the United States."
According to Andrew Stuchbery, a professor of nuclear physics at the Australian National University (ANU) in Canberra, "this deal changes everything when it comes to nuclear science in Australia".
"It ushers in a new era for the nation," he says. "In the past, Australia's nuclear workforce needs have been minimal, and a lot of talented and trained people from across nuclear science have headed overseas.
"So it is absolutely vital we build sovereign capability in nuclear science."
What does nuclear research look like in Australia right now?
Australia has a strong record of nuclear research, but nuclear-powered submarines require a specific base of knowledge that isn't currently well-studied here.
"We have some excellent nuclear physics facilities in Australia," says Stuchbery. "We have the Heavy Ion Accelerator Facility at ANU… It's one of the best of its type in the world. We have the OPAL reactor at ANSTO, which is also a world-class facility."
But, he says, we do not have specific expertise in reactors for naval propulsion.
"In fact, nuclear power is forbidden by law in Australia.  For that reason, we were not as prepared as we might have otherwise been."
What STEM skills are essential to build and operate the submarines?
Building, maintaining, operating and regulating nuclear-powered submarines require multiple skills.
"With Australia now taking on nuclear subs, it is vital that the workforce understands the underpinning science and gets hands-on training in handling sophisticated instruments," says Mahananda Dasgupta, nuclear physicist and director of the ANU Heavy Ion Accelerator Facility.
Core sciences – such as nuclear physics and chemistry – are necessary to building knowledge and continuing to develop skills. We will also need to build expertise in fuel management chemistry, and nuclear engineers and mechanics are essential to build and operate the engines.
---
Read more: A boon for nuclear waste management
---
"A lot of the engineering will be similar to other areas of engineering where you're controlling very sophisticated instruments and machinery," Stuchbery says. "But there [are] special aspects of nuclear engineering that will need to develop expertise in the interface between the nuclear technology and other technology."
Beyond this, sound knowledge of nuclear science and engineering is essential to create proper safety regulations. Specifically, controlling how nuclear technology is used within the submarine engines.
"There's kind of two levels of skills that you need here – there's the technical side and there's the regulation side," says Stuchbery.
"In Australia, we're really gold standard when it comes to regulation, so I think we're well-prepared for that. Of course, there'll be new issues associated with nuclear submarines – if we are dealing with highly enriched uranium, then there'll have to be a regulation framework put in place."
Does Australia have the skilled personnel to operate nuclear-powered submarines?
Not yet.
"I think the honest answer is that there is a skill gap," says Stuchbery. "In the past I've heard it argued that one reason we don't go to nuclear submarines is that we have that skill gap."
For example, he says, "I might know how an internal combustion engine works but I won't necessarily be able to fix my car if I don't have a workshop manual. So we are going to have to build a skilled workforce."
How long will it take to learn the right skills?
Many of the skills necessary to build and operate the nuclear engines will take years to develop.
However, the submarines will be sent to Australia unbuilt. This provides an opportunity for personnel to develop skills during the construction process.
"I don't know how long it's going to take, but I would think it's going to take years," says Stuchbery. "I would think that we can build that skill base very satisfactorily on the same timescale as the submarines are being built."
How will we build and maintain nuclear expertise in the future?
Universities and nuclear research facilities are essential to maintaining a properly trained workforce, the experts say.
"Nuclear science urgently needs support for academic personnel – new tenured appointments with a secure career path in Australia," says Stuchbery.
"I'll be frank: this has been a growing problem over the past decade or more. The situation has become critical due to the financial constraints on universities due to COVID-19.
"Unless there is action on this immediately, we are in danger of losing all university-based nuclear technology expertise in Australia."
But Tim Senden, director of the ANU Research School of Physics and Engineering, believes ANU has the capability to build these skills and develop Australia's nuclear capabilities.
"At ANU we have the capability, the will and the desire to deliver the experts our nation needs," he says.
"There is no better place than ANU when it comes to harnessing the latest nuclear science research and teaching. We invite anyone with a passion for this field of study and work to join us." 
Read science facts, not fiction...
There's never been a more important time to explain the facts, cherish evidence-based knowledge and to showcase the latest scientific, technological and engineering breakthroughs. Cosmos is published by The Royal Institution of Australia, a charity dedicated to connecting people with the world of science. Financial contributions, however big or small, help us provide access to trusted science information at a time when the world needs it most. Please support us by making a donation or purchasing a subscription today.