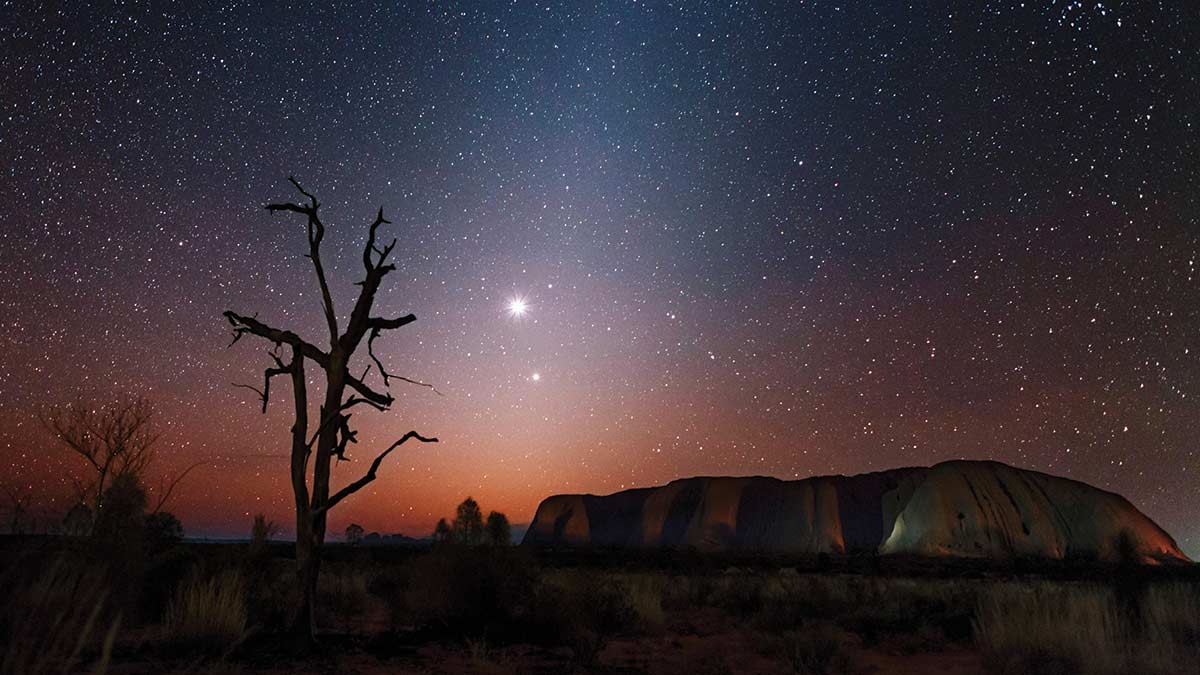 By Kirsten Banks and Duane Hamacher.
Venus is the brightest planet and third brightest object in the sky after the Sun and Moon. Of all the Aboriginal and Torres Strait Islander astronomical traditions involving the planets, Venus is the most prominent. The regular path of Venus (pictured over Uluru, trailed by Jupiter) has long been understood, and is celebrated in numerous ceremonies and stories.
The Yolηgu people on Galiwin'ku (Elcho Island) in the Northern Territory conduct a sacred ceremony called Banimbirr when Venus rises in the morning sky after disappearing as an Evening Star eight days previously. This ceremony is planned well in advance and people travel from far and wide to attend as Venus ascends into the dawn sky, signalling the location of Burralku, the island of the dead in the east. Elders explain how they count the days to know when it will appear. Western astronomers refer to this cycle as the synodic period of Venus, which lasts for 584 days before repeating. 
---
Cosmos Magazine issue 91 goes on sale on Thursday 3 June 2021.
To see more of this story, subscribe today and get access to our quarterly magazine in print or digital, plus access to all back issues of Cosmos Magazine.
Read science facts, not fiction...
There's never been a more important time to explain the facts, cherish evidence-based knowledge and to showcase the latest scientific, technological and engineering breakthroughs. Cosmos is published by The Royal Institution of Australia, a charity dedicated to connecting people with the world of science. Financial contributions, however big or small, help us provide access to trusted science information at a time when the world needs it most. Please support us by making a donation or purchasing a subscription today.