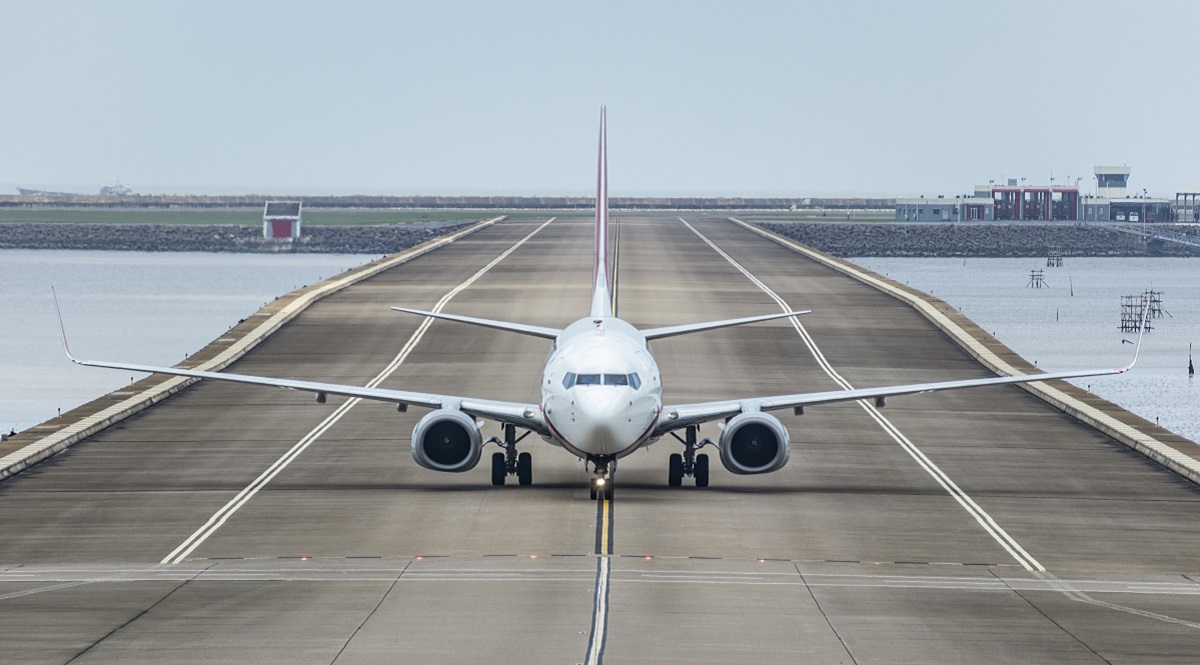 Up and down the length of the cabin, my fellow passengers in window seats are starting into the distance as our aeroplane rolls towards the runway, ready to take off for the long-distance flight from Melbourne to Los Angeles.
Some are vaguely focussed on the grasslands flanking the runway, while others are intrigued by the assortment of aeroplanes taxiing, taking off and landing.
I, on the other hand, am fixated on the big jet engine slung beneath the wing of this wide-bodied aeroplane. I'm wondering just how much jet fuel it uses per second.
The numbers roll through my mind: I'm guessing 100 tonnes of fuel in the wing tanks at take off, equating to roughly 120,000 litres, or 60,000 litres per engine. It's a 12-hour flight, so 5000 litres per hour, about one-and-a-half litres per second per engine.
Gosh that's a lot. To visualise it, fill a pot with water and pour it as fast as you can down the sink. Now imagine that deluge continuing for the duration of the 12-hour flight. Those jet engines are guzzlers. And, of course, this brings me back to one of my major preoccupations: how are we to replace our huge dependence on fossil fuels with zero carbon alternatives?
Aviation contributes 2.5% to global emissions, but this could increase to more than 20% by 2050 on the back of continuously growing aviation demand and future successes reducing emissions from other sectors.
Batteries, at least with today's chemistry, can't power long-distance flights because they are too heavy: 40 times heavier than jet fuel per unit of energy.
Another way to look at it is the total energy requirement: 100 tonnes of jet fuel contains 1200 megawatt-hours of energy. Electric jet engines are likely to be twice as efficient as conventional jet engines, but the flight would still require a 600-megawatt-hour battery, which would be a very big battery indeed.
For short haul flights it's a different story. A company named Eviation has plans to build a battery powered aeroplane that will carry nine passengers up to 1000 kilometres.
If all the short-haul commercial aviation flights in the world were powered by batteries charged from renewable energy that would eliminate 20% of the emissions from the aviation industry. Every bit helps, but what about the other 80%?
Not so long ago, I thought we had the answer. After scaling up solar and wind electricity to meet the majority of our energy needs, we'd use biofuels to fly our jet planes. But studies now show that the amount of land area required to grow biofuel crops for aviation would eat into a huge proportion of the world's agricultural land.
If all the short-haul commercial aviation flights in the world were powered by batteries charged from renewable energy, that would eliminate 20% of the emissions from the aviation industry.
Clean hydrogen – made by cracking water using solar and wind electricity – is the obvious answer. For one thing, hydrogen has high energy density; to carry the same amount of energy in hydrogen the aeroplane would only need a third as many tonnes as it would need in jet fuel.
That's a big plus.
But weight isn't the only thing to worry about in aeroplanes. Volume counts too. It turns out that because hydrogen is extremely light, the same amount of energy in liquid hydrogen would occupy four times the volume of jet fuel. For long distance flights, there would simply not be enough room in the wing tanks to store it.
But there is no limit to human ingenuity. A few months ago, I saw a concept design in which the wings, rather than jutting out the sides, extended along the length of the aeroplane, providing room inside for long, cylindrical hydrogen tanks in parallel with the fuselage.
Alternatively, you could imagine the cargo space under the passenger cabin being allocated to hydrogen storage instead of commercial freight.
As the push to eliminate emissions from the aviation industry grows, it is likely that clever aerospace engineers will develop solutions to storing the hydrogen that will enable guilt-free, emissions-free, long-distance aviation.
It won't be easy. But I am confident the day will come when I will be looking out the window and marvelling at the ample flow of hydrogen powering a long-haul jet engine. I'm just hoping that it will not be so far into the future that I will find it difficult to do the mental arithmetic.
This article appeared in Cosmos 84 –
Read science facts, not fiction...
There's never been a more important time to explain the facts, cherish evidence-based knowledge and to showcase the latest scientific, technological and engineering breakthroughs. Cosmos is published by The Royal Institution of Australia, a charity dedicated to connecting people with the world of science. Financial contributions, however big or small, help us provide access to trusted science information at a time when the world needs it most. Please support us by making a donation or purchasing a subscription today.
Make a donation