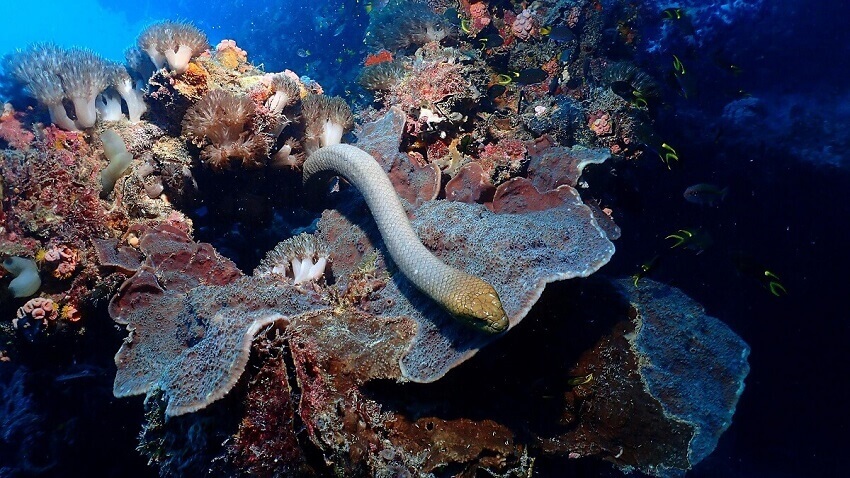 In another year dominated by COVID-19, we all appreciated a little weird science to lift our spirits, and 2021 did not disappoint!
As usual, many of the year's oddest science yarns emerged from the animal kingdom, as self-decapitating slugs grew brand new bodies, sex-starved sea snakes attacked scuba divers, and a talking Aussie duck threw some serious shade our way.
But there was, of course, plenty of strangeness in the world of humans too – a man injected himself with magic mushrooms and they grew in his blood, women revealed what gets their rocks off, teens 'caught' Tourette's-like symptoms from social media videos, and an unfortunate Indian woman cried tears of blood during her period. As if that wasn't enough, we learned that an Aboriginal memory trick beats Sherlock's 'mind palace', and that professional psychic mediums are actually worse at talking to the dead than the rest of us, and finally, we met a seriously angry typewriter! 
We lost our heads over self-decapitating slugs
After months of working from home, we probably all feel a bit sluggish, and might appreciate the option to ditch our ever-flabbier bodies if we could simply grow a fresh one. Well, that's 'one weird trick for weight loss' that works for two different species of sacoglossan sea slug, according to Japanese scientists.
In a chance discovery reported in March, they found the amazing molluscs get ahead by separating their bonces from their bodies, giving their old organs, including their hearts, the heave-ho. Bizarrely, these newly-liberated noggins can move on their own and even chow down as if nothing were amiss, providing the energy to grow a shiny (or rather, slimy) new body from scratch. Exactly why the slugs do this, and how they achieve it, remain a mystery for now, but the scientists hope to learn more through further research.
Attacking Aussie sea snakes were just unlucky in love
In August, Aussie researchers reported that venomous olive sea snakes which attack scuba divers probably think they're being sssssuper sssssexy, and victims should let the critters slip them the tongue to avoid being bitten!
Divers often report unprovoked and mysterious attacks by these snakes, and new data on 158 encounters around the Great Barrier Reef found attacks peaked in mating season and were usually randy, charging males that had just been jilted by a female, or had faced off against a male love rival. Three males even coiled around the divers' fins, suggesting they were up for a bit of reptilian rumpy pumpy.
The experts recommended staying still (possibly while thinking of England) and allowing any sex-starved serpents to investigate with their flicking tongues to avoid being bitten in the event of any unwanted amorous attention.
Ripper, Canberra's talking duck, shocked us with his fowl language
Ripper, an unusually chatty Australian musk duck from Tidbinbilla Nature Reserve in Canberra, was recorded throwing some serious shade our way in September, having mastered the quintessentially Aussie phrase "Ya bloody fool", along with an uncanny ability to impersonate a slamming door.
Ripper performed these party tricks as part of his mating rituals, and probably learned the phrase from an impatient keeper, the researchers behind the recordings said. It remains unclear whether Ripper won over any female ducks with his fowl language. Perhaps his scathing remarks were aimed at nearby federal parliamentarians.
A man injected magic mushrooms and they started to grow in his blood
A man referred to only as 'Mr X' probably thought he was going to be a fun guy (sorry) forever after injecting a tea brewed from magic mushrooms into his blood, but instead his psychedelic experiment resulted in multiple organ failure and a 'trip' to the intensive care unit.
In a case study reported by US psychiatrists in May, we learned that 30-year-old Mr X was attempting to self-medicate, having recently stopped taking his bipolar meds. But problems soon arose, and his family found him a few days later suffering from extreme confusion, nausea, diarrhoea, and vomiting blood.
On arrival at hospital, doctors determined that his kidneys, lungs, liver and heart were all floundering, and his whole body was in a state of septic shock. Remarkably, the medics looked at his blood and found the mushrooms, Psilocybe cubensis, were now growing in his veins. Whether Mr X's confusion was a psychoactive effect of the mushrooms growing inside him, or merely a result of all his other medical issues, remains unclear. Talk about a bad trip!
From joyous coffees to furious typewriters, we saw facial expressions everywhere
Expressive faces were everywhere in July, when Aussie and US experts revealed that our brains are not only hard-wired to spot faces in everyday objects, they also recognise their mood as if we were looking at a real person, all within mere milliseconds.
The ability to spot a face and figure out the mood of its owner quickly has obvious advantages, because it gives us time to beam back, or to about face and run for it. But this means we often see faces and expressions where none exist, known as 'face pareidolia'.
Even once we realise we're looking at an inanimate object, our brains still overwhelmingly see the face. The researchers said this suggests the advantages of never missing a facial expression must outweigh the disadvantages of seeing faces in our morning Joe, handbags, capsicums, mops, milk bottles, cakes and typewriters.
OMGYES! Women revealed that 'rocking' gets their rocks off, as do 'pairing', 'shallowing' and 'angling'
In a distinctly NSFW study released in April, more than 3,000 US women revealed what puts the 'O' in their OMG! The unsubtly named OMGYES Pleasure Report asked the women which sex styles gave them the maximum bang for their buck in the bedroom, and then researchers rooted out four previously unnamed techniques that provided the most women with the maximum pleasure.
 Those magic moves were 'rocking', 'shallowing', 'pairing', and 'angling' (that last one should not be taken as an excuse for a quick fishing trip, that's not what they meant). The scientists said identifying and naming techniques that help women feel the Earth move can help them determine what they desire under the doona, and communicate it to their partners.
Psychic mediums were worse at talking to the dead than the rest of us
In news that surprised no-one, we learned in January that professional psychic mediums are actually worse at talking to the recently deceased than ordinary, non-psychic, folk.
US scientists recruited 12 charlata…sorry, professional psychic mediums and 12 people who made no claim to have supernatural powers, and showed them photographs of 180 dead people. They were then asked to identify how each kicked the bucket. The non-psychics chose the cause of death correctly slightly more often than we'd expect through random chance, but the mediums performed worse than random chance, by 0.2 per cent. You might say they should have seen it coming.
When quizzed, some of the mediums helpfully explained that the dead people simply weren't feeling particularly chatty, so they were experiencing the physical pain of the person's demise rather than a gab with their ghosts. Chest pain, they said, could mean a heart attack, a car crash or a bullet to the chest, leading them to get it wrong. So that clears that up then.
Of course, the other possibility is that the only ghoulish thing about mediums is their willingness to prey on the bereaved.
A woman cried tears of blood during her period
Suddenly bleeding from your eyes sounds like the stuff of nightmares, so spare a thought for the unfortunate Indian woman who cried tears of the red stuff – known as haemolacria – during her period. In March, we learned the 25-year-old had reported to the emergency department crying red tears, and this wasn't her first time – she'd experienced the same thing around a month earlier.
A battery of tests revealed nothing untoward, so doctors diagnosed her with 'vicarious menstruation' – bleeding in unexpected organs during menstruation. Other patients with the condition have experienced bleeding in the bladder, kidneys, lungs, and even through the skin.
Although the cause of the woman's condition wasn't clear, her doctors reasoned that a hormonal imbalance could be the culprit, as the hormones oestrogen and progesterone can thin tiny blood vessels called capillaries. And their hunch proved savvy – treatment with hormonal contraceptives stopped the bloody blubbing, and the woman was mercifully free of it three months later.
Elementary, my dear Yunkaporta. An Aboriginal memory trick worked better than Sherlock's 'mind palace'
Sherlock fans may be familiar with Holmes' memory technique, the 'mind palace', which involves visualising a familiar place, and linking information with imaginary objects placed in specific spots. But this May, Holmes' mind palace was all but demolished when a small study found an ancient memory trick used by Aboriginal Aussies is more effective at helping students recall facts.
The Indigenous technique is similar to the mind palace, in that it matches information with features of the landscape, but it also uses stories to reinforce the memories. These stories can be songlines passed through generations, or entirely new yarns dreamt up on the spot as an aide-mémoire. In the study, three groups of students were asked to memorise the names of 20 butterflies.
Following an initial test of recall, one group watched an irrelevant video, group two was taught Sherlock's trick, and the third group went outside, where an Indigenous educator, Dr Tyson Yunkaporta, wove a narrative around campus landmarks and the butterflies. On re-testing, mind palace students were twice as likely to get a perfect score. But students who learned the Aboriginal trick were around three times as likely to ace the test.
Tic-Tok teens 'caught' Tourette's-like symptoms from social media
In August, German psychiatrists reported that young people around the world appear to be 'catching' Tourette's-like tics by watching videos on social media. Their specialist Tourette's clinic in Hanover saw a spike in young patients who had recently developed strikingly similar vocal and behavioural tics.
The vocal tics were unusual, involving long sentences full of insults and swearing, as were the behavioural tics, which included crushing eggs and throwing pens. But the team eventually recognised them from a YouTube channel called 'Thunderstorm in the Brain'.
The channel documents Jan Zimmerman's life with Tourette's, and shortly after he started it in 2019 the team saw their first patient with the distinctive symptoms. Some of the patients probably do have mild Tourette's, they said, but most seemed to have a "mass social media-induced illness". They speculated that the stress of the pandemic may have made teens more vulnerable to catching tics, while lockdowns have meant they are even more likely than usual to be on social media watching videos.
Read science facts, not fiction...
There's never been a more important time to explain the facts, cherish evidence-based knowledge and to showcase the latest scientific, technological and engineering breakthroughs. Cosmos is published by The Royal Institution of Australia, a charity dedicated to connecting people with the world of science. Financial contributions, however big or small, help us provide access to trusted science information at a time when the world needs it most. Please support us by making a donation or purchasing a subscription today.