Bird enthusiasts in South Australia's Coorong region have just spotted an orange-bellied parrot, and heard another one. This is the first time there has been a positive sighting of the critically endangered bird in the area since 2013 – proof that they still retain the migratory instincts to travel up the coast from Victoria after migrating across the Bass Strait.
This follows news last month that a cohort of captive-born orange-bellied parrots (Neophema chrysogaster) was released on the Victorian coast, bolstering the hopes of conservation efforts.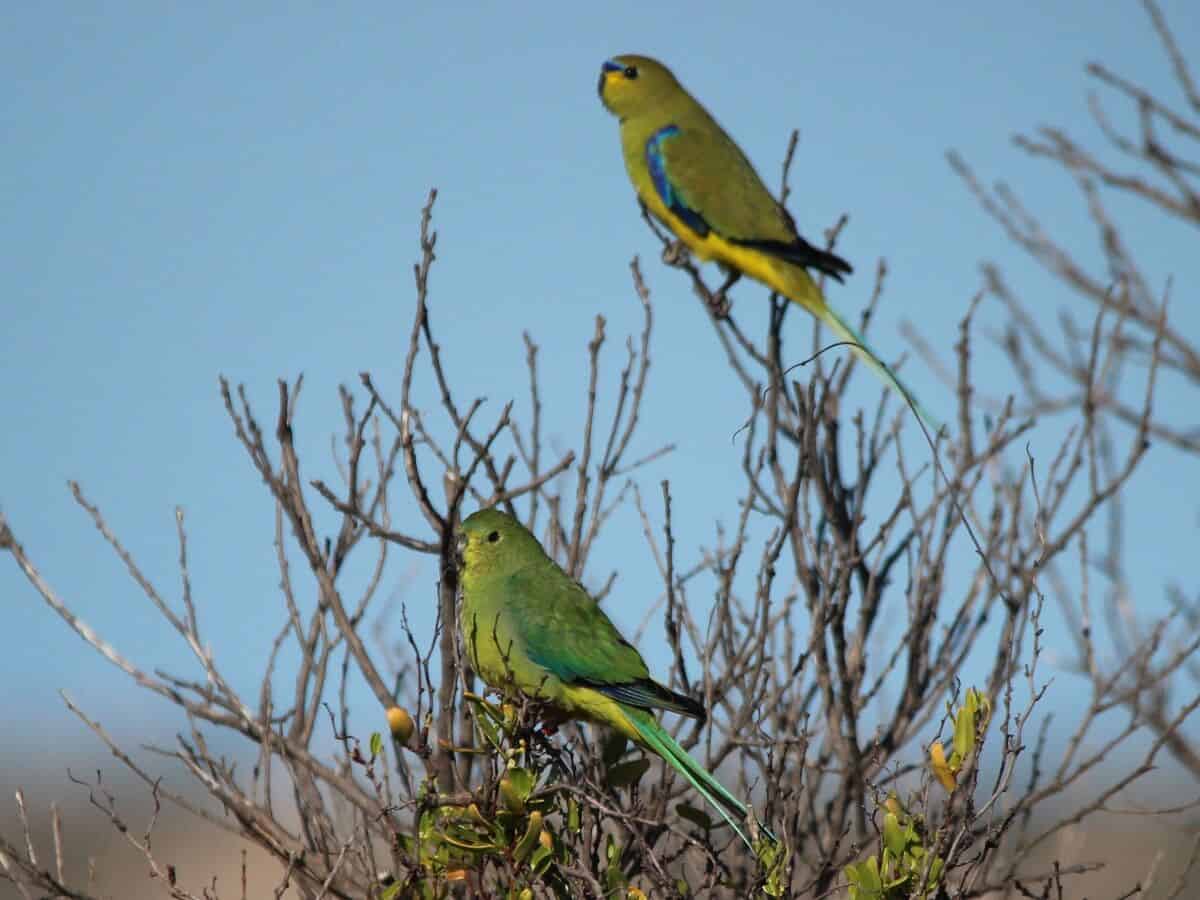 "There is great hope attached to the release of these birds," says Chad Crittle, Senior Keeper of Birds and Free Flight of the Adelaide Zoo, where four of the 32 released birds were born and raised in a specialised breeding facility.
"Our birds have joined others raised in institutions with the hope that they will attract those returning from their long flight across the Bass Strait and create a larger group."
These birds, around the size of a wild budgie and grass-green in colour, are one of three migratory parrot species in the world. Every autumn, they fly across the wild Bass Strait from their breeding grounds in Melaleuca, southwest Tasmania, to feeding sites on the mainland in Victoria – historically even reaching the South Australian coast, as confirmed by the new sightings on 29 May 2021.
"This is a real test of endurance for this little parrot, especially the juvenile birds," says Crittle, who is also acting chair of the Orange-bellied Parrot Captive Management Group.
This year, 192 wild orange-bellied parrots were counted embarking on their annual migration from Tasmania – the largest number to make the trip since monitoring began 20 years ago.
A marked population decrease in these birds was first clocked about 25 to 30 years ago. The wild population has hovered around 20 individuals for the past decade; a few years back it dipped to 17.
But the reason for their endangered status isn't well understood, according to Crittle.
One hypothesis, he says, is habitat destruction: "Because they're such a small little bird and they're flying such a long distance, relying on that food being in the location they remember it to be when they land…is really important. If there's development or changes to that food supply, it's quite a dramatic effect on a 45-gram bird."
Climate change may also be shifting weather patterns and therefore food availability, he adds – plus, of course, introduced predators and human disturbance both play a role.
"A lot of the work that we're doing is researching potential contributing factors, and then refining our release techniques to ensure that we can put birds back into the wild, as we're still trying to understand what's going on."
Zoos and wildlife sanctuaries around the country collectively have about 600 birds in human care – up from around 250 birds 10 years ago. These are fastidiously managed, with careful matchmaking of breeding pairs to ensure genetic diversity. Before a chick is even born, it is known whether or not they are genetically suitable for release into the wild or will remain in the breeding program.
This has enabled a large number of birds to be released over the last two years.
Captive-born birds have largely been released at the breeding grounds in Tasmania, not only to increase the population but also to balance the gender ratio and increase the number of breeding pairs.
"All current orange-bellied parrots hatched in the wild have at least one parent that was hatched in human care," Crittle says.
But over the last few years, conservationists are trying something different – releasing the birds at the other end of their migration, on the windswept coastline of mainland Australia, where the parrots feed mostly on saltbush.
"As the population dwindles, there just may not have been enough adult birds that had travelled there or identified those for the young birds to learn from," Crittle says.
"One of the justifications for the [mainland release] program is to have birds in those suitable feeding areas, so when the wild birds arrive from Tasmania, they can flock with other orange-bellied parrots. It acts like a marker posts for birds as they're flying across the Bass Strait."
A dedicated group of volunteers go out to the feeding sites along the Victorian coast to monitor the population, using the birds' individual ID bands to track them without having to catch them.
But as of yet, none of these parrots released on the mainland have made it back to Tasmania.
The question is, how would they know where to go?
"The migration process is not entirely understood in them yet," Crittle says. "Whether it's an instinctive behaviour or whether it's something that they have to watch adults birds do, they still don't quite know."
Based on other migrating parrots, it's likely to be a mostly learned behaviour.
"The ultimate goal would be that they all integrate and that the birds travel back to Tassie together," he says, but the main point of the mainland release trial is to teach the wild migrating population where to land and eat in their historic feeding grounds.
The mainland release trial is led by the Victorian Department of Environment, Land, Water and Planning, with Zoos Victoria and Moonlit Sanctuary.
In the latest release, 32 captive-bred birds were taken to three sites: the Spit Nature Conservation Reserve near Werribee, the Bellarine Peninsula and the northern shore of Western Port Bay.
Alongside captive breeding, conservationists are also working hard to protect the birds' habitat, learning from programs protecting other migratory species like those of North America and eastern Eurasia – where restoring historic landing sites is crucial for the birds to be able to make the full migration. In Tasmania, controlled burns are being planned to improve the growth of food trees for orange-bellied parrots.

There has been a huge groundswell of community support to help protect and restore orange-bellied parrot populations. But why invest so much time, effort and money into these little birds?
In essence, Crittle says, the answer is "because we can".
"It would be a shame to lose a bird before you ever fully understand what sort of an impact that loss might have," he says.
"They really are a stunning bird, and seeing a group of ten of them together is incredible, let alone seeing them in historic numbers."
One day, he hopes to see 150 of them feeding together on a coastline.
Read more:
Read science facts, not fiction...
There's never been a more important time to explain the facts, cherish evidence-based knowledge and to showcase the latest scientific, technological and engineering breakthroughs. Cosmos is published by The Royal Institution of Australia, a charity dedicated to connecting people with the world of science. Financial contributions, however big or small, help us provide access to trusted science information at a time when the world needs it most. Please support us by making a donation or purchasing a subscription today.
Make a donation