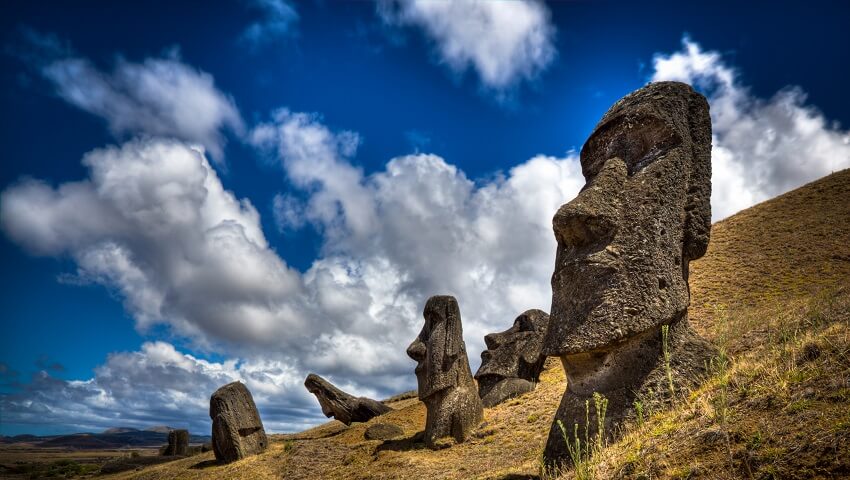 It is time to remember Easter… Island. Here are four stories about archaeology and Rapa Nui.
Tools left over from wars that destroyed Rapa Nui civilisation.
For decades we have been told that the Rapa Nui, the people who lived on Easter Island in the South Pacific, committed eco-suicide. The story went that, having used up most of their resources, the ancient Polynesians sealed their fate through bloody fighting over the meagre remains.
But increasingly it appears we have defamed them.
Genetic analysis of Easter Island skeletons rules out early mixing with Amerindians.
The people of Easter Island did not fraternise with South Americans before the arrival of Europeans in 1722, a new paleogenetic analysis has established.
The surprising finding, reported in the journal Current Biology, helps to further illustrate the mysterious culture of the Polynesian people who left the remote island dotted with instantly recognisable towering "moai" figures.
Studies support influence of Native Americans.
Native Americans had a genetic and cultural influence on Polynesia more than five centuries before the arrival of Europeans in the region, a new study suggests.
And it didn't all start in the obvious place – Rapa Nui (Easter Island) – according to the international team of researchers.
They say evidence shows first contact was on one of the archipelagos of eastern Polynesia, such as the South Marquesas, as proposed by the late Norwegian explorer Thor Heyerdahl, who made his famous drift voyage from Peru to Polynesia on the raft Kon-Tiki in 1947.
Picture of human migration across the Pacific Ocean.
Around 3,400 years ago, humans made the intrepid journey to one of the most remote places on Earth – the islands of Oceania. How did that prehistoric population traverse such a huge expanse of ocean to colonise this region? And more importantly, where did they come from?
Researchers led by Alvaro Montenegro from Ohio State University in the US put together detailed data on climate events, ocean currents and wind to create computer simulations of oceanic voyages, and found settlers moved from the Pacific to remote Oceania islands, such as Easter Island, with the wind.
Read science facts, not fiction...
There's never been a more important time to explain the facts, cherish evidence-based knowledge and to showcase the latest scientific, technological and engineering breakthroughs. Cosmos is published by The Royal Institution of Australia, a charity dedicated to connecting people with the world of science. Financial contributions, however big or small, help us provide access to trusted science information at a time when the world needs it most. Please support us by making a donation or purchasing a subscription today.
Make a donation