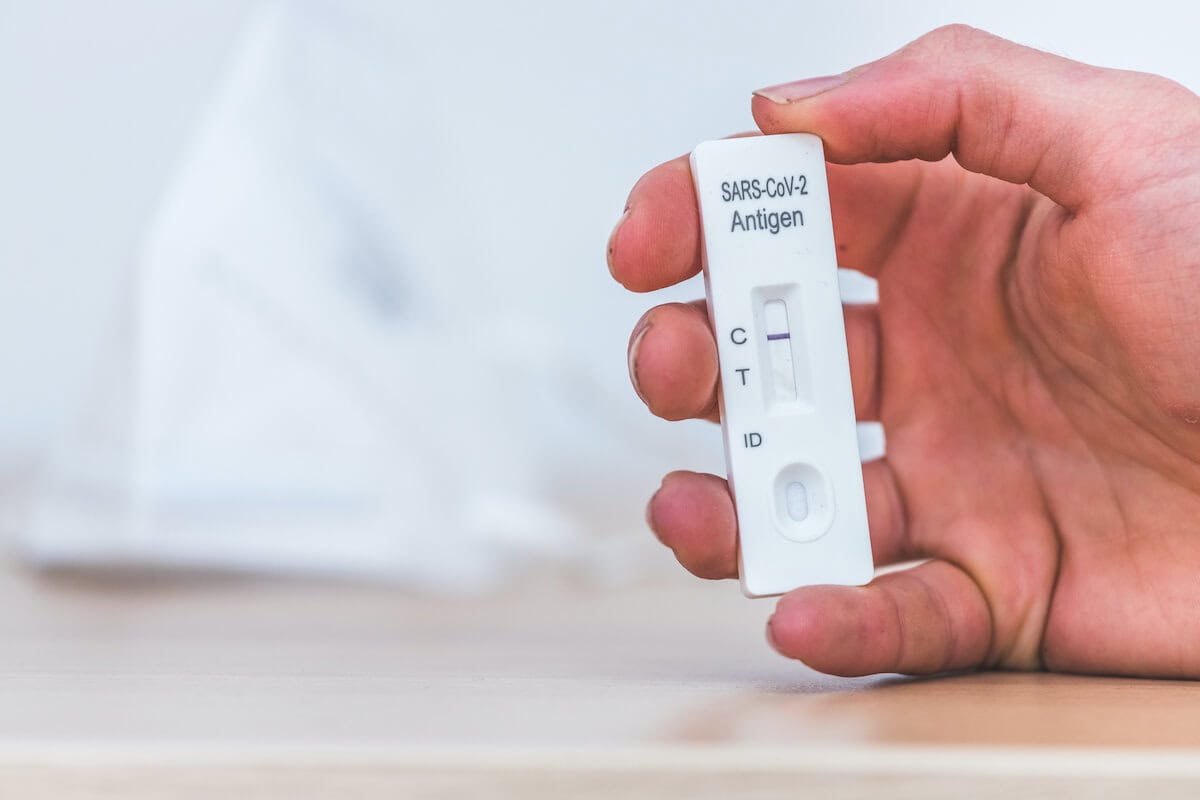 In Australia, PCR (polymerase chain reaction) tests are the gold standard for diagnosing COVID-19, while rapid antigen tests – widely used in other parts of the world – remain uncommon. But as some states grapple with outbreaks of the highly infectious Delta variant, pathology laboratories struggle to keep up with the high demand for testing.
How do rapid tests work?
While PCR tests seek the virus's genetic material, antigen tests look for viral proteins to ascertain the presence of the pathogen.
In a PCR test, genetic material from the sample, including genetic material from any virus present, is isolated. Then, the sample goes through a thermal process that separates DNA into two pieces of single-stranded DNA. Next, an enzyme called Taq polymerase duplicates the DNA strands. Each of these strands can be used to create two new copies, and so on. The cycle is repeated many times to generate millions of exact replicas of the original DNA segment, which allows for identification of the pathogen.
This process can take hours and requires sophisticated lab equipment and specialised technicians, but results are almost 100% accurate in spotting infected people when there is virus in the swab.
In contrast, antigen tests work by mixing the sample with a solution that breaks the virus open and frees specific viral proteins. That combination is then applied to a paper strip that contains an antibody tailored to bind to these proteins if they're present in the solution. Like a home pregnancy test, the result is reflected as a band on the paper strip.
Samples can be processed on the spot in 15 to 30 minutes. These tests are relatively inexpensive and work best in the early stages of infection, when viral load is highest.
But that speed comes at the cost of sensitivity.
In a recent study, researchers from the Doherty Institute in Melbourne tested one of the rapid antigen tests licensed for use in Australia, the PanBio test, manufactured by Abbott.
They tested 2,413 people without the virus and 22 with infections confirmed by PCR testing. They found the PanBio test had a specificity of 99.96%, which means that four in 10,000 tests could return a false-positive result.
Even amid the current outbreaks, COVID-19 prevalence rates in Australia remain extremely low. Such specificity could potentially generate more false positives than there are actual positive cases in the community.
However, the major problem was the reduced sensitivity of the test, which could lead to false-negative results. While the test picked up 100% of COVID-19 cases among people who have had symptoms in the previous seven days, its accuracy dropped to only 77% among asymptomatic people, which means that it could miss up to 23 positive cases every 100.
Should Australia implement rapid antigen tests during outbreaks?
In Australia, the use of rapid antigen tests is currently not recommended for the diagnosis of COVID-19 because of concerns around their reliability. They have been used at the quarantine facility in Howard Springs, for returnees from India, and are now being trialled in aged-care facilities in Melbourne and Sydney.
Dr Ian Norton, a specialist emergency physician at Respond Global, who oversees the trial at the Sydney aged-care centre, says rapid antigen tests are most useful when there is substantial community spread. In that case, he says, the aim of testing is to identify people who have high viral load and are most likely to spread the virus. "Rapid tests are very effective at picking up super spreaders. This is where they are most useful," he says.
"When we're chasing elimination in Australia, that's where PCR is the test to use, because we want to catch every single person with the virus."
But sensitivity is only one marker of a good test, says Norton. Speed, accessibility and cost are crucial traits to consider during outbreaks because, he says, the strategy is more about limiting community transmission than tracing every single case.
In Sydney, essential workers from three local government areas in the south-west of the city have been asked to get tested every three days for "surveillance testing". The policy has caused kilometres-long queues at PCR testing centres, and returning results are taking up to 90 hours, which is hugely disruptive. A result that comes when "the horse has bolted" is not useful when trying to control an outbreak, says Norton.
But in a recent study from the National Institutes of Health, researchers found that rapid antigen tests had a sensitivity (>98%) comparable to PCR for identifying infected individuals if used at least every three days.
Therefore, daily screening using self-swabbing antigen tests done under the supervision of a trained person or via telehealth could keep essential workplaces open and safe, says Norton.
Ideal for border control and preventing outbreaks
Rapid antigen test use would be extremely helpful in high-risk settings such as border control and quarantine, says Professor Mary-Louise McLaws, an epidemiologist at UNSW Sydney and advisor to the World Health Organization.
Currently, international travellers are required to return a negative PCR test 72 hours prior to their flight departure and are tested again on day two after arrival. Those who test positive are then moved to a separate facility.
McLaws says that five-day lag puts travellers, staff and the community at risk. "Returning travellers and quarantine staff should be tested daily with rapid tests," she says.
"When you lay out two different tests together, they're very synergistic," says Norton. He suggests that a PCR test should be done within 72 hours before take-off, then a rapid antigen test at arrival would triage actively infectious cases to be quickly separated from other incomers. Negative, low-risk travellers could be sent to hotel or home quarantine.
McLaws says self-swabbing, take-home rapid tests should be provided to fully vaccinated returnees who have tested negative on arrival, to allow them to home quarantine. But the TGA won't approve take-home COVID-19 tests because of concerns around false-positives, she says: "I think it's highly paternalistic if you think that you can't trust Australians to be able to use these tests."
Looking forward, rapid antigen tests could be a valuable tool to prevent lockdowns when a higher percentage of the population will finally be vaccinated. These tests could be used in mass gatherings such as at sport events or music festivals to quickly screen everybody and catch those who are infectious.
"Let's look at January or February next year – this is when antigen testing will really start to come into its own," says Norton. "When we have high vaccination rates, we will not be willing to spend millions and millions of dollars on PCR. Instead, we should be doing a light, rapid test for catching those one or two people who have broken through their vaccine and are now infectious."
Read science facts, not fiction...
There's never been a more important time to explain the facts, cherish evidence-based knowledge and to showcase the latest scientific, technological and engineering breakthroughs. Cosmos is published by The Royal Institution of Australia, a charity dedicated to connecting people with the world of science. Financial contributions, however big or small, help us provide access to trusted science information at a time when the world needs it most. Please support us by making a donation or purchasing a subscription today.
Make a donation