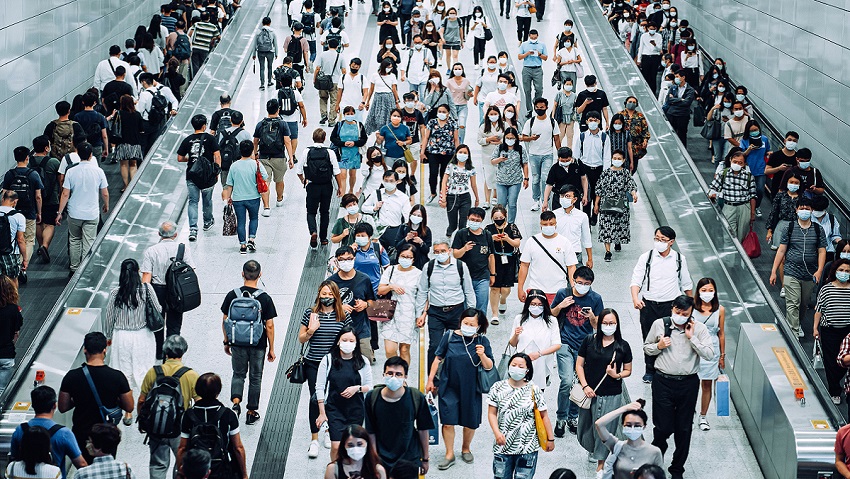 The numbers
Globally, COVID daily case numbers have plateaued slightly in the past few days after reaching a record-setting 656,137 on 12 November. Over the past week, daily case numbers per 100,000 population have been highest in Austria (80) and Georgia (85).
In the US, the seven-day average of new cases has remained above 100,000 since 6 November; daily cases hit a (current) peak of 181,571 on 13 November. The US death toll reached 250,000 on 18 November.
In Australia, a surprise outbreak – again with its source a quarantine hotel – in Adelaide, South Australia, prompted a slew of border restrictions from other states and, starting from midnight on Thursday, a six-day stay-at-home order.
As of Wednesday, 22 cases had been directly linked to the outbreak and another seven were suspected. On Thursday morning SA chief health officer Nicola Spurrier reported no new cases.
Announcing the six-day lockdown on Wednesday, Spurrier and state premier Steven Marshall said the measure was designed to serve as a "circuit breaker" to give contact tracers more time to catch up with the virus's progress. Spurrier said that all of the cases had been linked – "a phenomenal effort".
"It means that… we have a very short window of opportunity to close it down and stamp it out in our communities," she said.
Global
As at 17:38 CET on Wednesday 18 November, cases confirmed worldwide by national authorities stood at 55,326,907 (536,224 of them reported in the preceding 24 hours). 1,333,742 deaths have been recorded (9220). (Source: WHO Coronavirus Disease Dashboard)
Johns Hopkins University's Centre of Systems Science and Engineering (CSSE) reported (at 16:30 AEST on Thursday 19 November) 56,202,427 confirmed cases and 1,349,339 deaths.
Australia
The Department of Health reported on 18 November that national confirmed cases stood at 27,777, a rise of 21 in 24 hours. 907 deaths have been recorded; none have been reported in the past seven days.
State by state: ACT 115 total cases (first case reported 12 March); NSW 4509 (25 January); NT 46 (20 March); Qld 1187 (29 January); SA 551 (2 February); Tas 230 (2 March); Vic 20,345 (25 January); WA 794 (21 February).
Research
How lockdown affects pollution levels
NASA researchers have put some numbers around the environmental impact of COVID-19. Using computer models to generate a virus-free 2020 for comparison, they found that restrictions since February have reduced global nitrogen dioxide concentrations by nearly 20%.
Nitrogen dioxide is primarily produced by the combustion of fossil fuels used by industry and transportation, both of which have been significantly reduced during the pandemic. Nevertheless, Christoph Keller from the Universities Space Research Association (USAR) says that "in some ways" he is surprised by how much it has dropped.
"Many countries have already done a very good job in lowering their nitrogen dioxide concentrations over the last decades due to clean air regulations, but what our results clearly show is that there is still a significant human behaviour-driven contribution."
Keller was lead author of a paper presented at the 2020 International Conference for High Performance Computing, Networking Storage, and Analysis.
The model simulation and machine learning analysis took place at the NASA's Center for Climate Simulation. Its "business as usual" scenario created a version of 2020 that did not experience the unexpected changes in human behaviour brought on by the pandemic.
The difference between the simulated values and the measured ground observations represented the change in emissions due to the pandemic response.
The researchers received data from 5756 observation sites in 46 countries, which relayed hourly atmospheric composition measurements in near-real time; 50 of the 61 analysed cities show nitrogen dioxide reductions of 20-50%.
Wuhan in China was the first to report an outbreak of COVID-19 and also the first to show reduced nitrogen dioxide emissions – 60% lower than simulated values expected. A 60% decrease in Milan and a 45% decrease in New York followed shortly after.
"You could, at times, even see the decrease in nitrogen dioxide before the official policies went into place," says USAR's Emma Knowland. "People were probably reducing their transit because the talk of the COVID-19 threat was already happening before we were actually told to shut down."
Reanalysing infection rates
COVID-19 infection rates across 15 countries were on average 6.2 times greater than the number of reported cases in the first five months of the pandemic, according to a new and novel Australian data analysis. In the case of Italy, it was as much as 17 times higher.
A team from the Australian National University, the University of Melbourne and Ikigai Research came up with these figures by using a technique called backcasting.
"Simply put, we analysed statistics on how many people had died from COVID-I9 in a given country and then worked backwards to see how many people would have to have been infected to arrive at that number of deaths," says Ikigai's Steven Phipps.
"Our method is a novel and easy-to-use method for estimating the true infection rate wherever there is reliable data on the number of fatalities…"
The study covered more than 800 million people in 11 European countries, Australia, Canada, South Korea and the US, which all have similar levels of medical care and populations with similar age distributions.
"We found COVID-19 infections are much higher than confirmed cases across many countries, and this has important implications for both control and the probability of infection," says ANU's Quentin Grafton.
The analysis suggests Australia had the best level of detection among the 15 countries at the end of April, but the rate of infection may still have been five times higher than what has been officially reported at the end of August.
The findings are published in a paper in Royal Society Open Science.
Improving patient information flow
There have been problems sharing data on how people are affected by COVID-19.
Research led by Australia's CSIRO has found that 95.5% of entries in GISAID, the world's largest novel coronavirus genome database, do not contain relevant patient information.
GISAID made "patient status" a compulsory field for uploading virus sequences in April, but the new study – a collaboration with GISAID and other academic partners – shows a lack of digital infrastructure for collecting clinical information has hampered progress.
The authors used this finding to develop a standardised data collection template they say can be implemented on repositories like GISAID without identifying the patient, making it easier for clinical teams treating patients to share more of their knowledge.
"We urgently need de-identified patient data associated with these virus genome sequences in order to decipher whether disease outcomes are due to a mutation, or multiple mutations, in the virus or host factors such as age, gender and co-morbidities," says CSIRO's SS Vasan, senior author of a paper in the journal Transboundary and Emerging Diseases.
"It's very likely this information is known to the clinical teams who treated the patient but does not make its way to public repositories such as GISAID, due to the number of steps involved."
SARS-CoV-2, the virus that causes COVID-19, is one of the most sequenced in history, with over 200,000 sequences on GISAID as of 16 November. The last 100,000 were uploaded in the past two months, a global record.
In brief
After recovery from SARS-CoV-2 infection, immune cells are formed which remain in the body and could mediate a rapid immune response in case of re-infection, according to researchers from Germany's University of Freiburg. "These so-called memory T-cells after SARS-CoV-2 infection look similar to those after a real flu. We are therefore confident that the majority of people who have survived SARS-CoV-2 infection have some protection against re-infection with SARS-CoV-2," says Maike Hofmann, co-author of a paper in Nature Medicine. Several previous studies have suggested SARS-CoV-2 specific antibodies are only detectable for a few months.
The stress and anxiety experienced by the general population during lockdown brought about a significant rise in orofacial and jaw pain, as well as jaw-clenching in the daytime and teeth-grinding at night, according to a survey of 1800 people in Israel and Poland by Tel Aviv University. The research, published in the Journal of Clinical Medicine, found that women suffered more than men, and 35- to 55-year-olds suffered the most. "We believe that our findings reflect the distress felt by the middle generation, who were cooped up at home with young children, without the usual help from grandparents, while also worrying about their elderly parents, facing financial problems and often required to work from home under trying conditions," the researchers write.
People with a high body mass index (a marker of obesity) and high levels of "bad" cholesterol are at an increased risk of getting COVID-19, according to research from Queen Mary University of London. However, no link was found with two other recognised cardiovascular risk factors – high blood pressure and diabetes. The findings, published in the Frontiers in Genetics, may have an impact on public health policy, the researchers suggest. Those who fall in the at-risk obese category or those with extreme hyperlipidemia may require more rigorous social distancing or shielding.
Some patients with COVID-19 are at higher risk of neurological complications such as bleeding in the brain and stroke, according to a paper presented at the annual meeting of the Radiological Society of North America. The researchers, from the University of Pennsylvania, say this finding is more common in patients with hypertension and diabetes. "COVID-19's effects extend far beyond the chest," says lead author Colbey Freeman. "While complications in the brain are rare, they are an increasingly reported and potentially devastating consequence of COVID-19 infection."
There were 2.77 million Google searches for insomnia in the US for the first five months of 2020, an increase of 58% on the same period for the previous three years. While searches trended downward from January through March, consistent with prior years, they surged in April and May, associated with the cumulative number of COVID-19-related deaths in the spring, according to researchers from Brigham and Women's Hospital in Boston. "I think it's safe to say, based on our findings as well as those from survey studies showing an increased level of insomnia symptoms in certain populations, that a lot of people were having trouble sleeping during the first months of the pandemic," says Kirsi-Marja Zitting, lead author of a paper in the Journal of Clinical Sleep Medicine.
Read science facts, not fiction...
There's never been a more important time to explain the facts, cherish evidence-based knowledge and to showcase the latest scientific, technological and engineering breakthroughs. Cosmos is published by The Royal Institution of Australia, a charity dedicated to connecting people with the world of science. Financial contributions, however big or small, help us provide access to trusted science information at a time when the world needs it most. Please support us by making a donation or purchasing a subscription today.