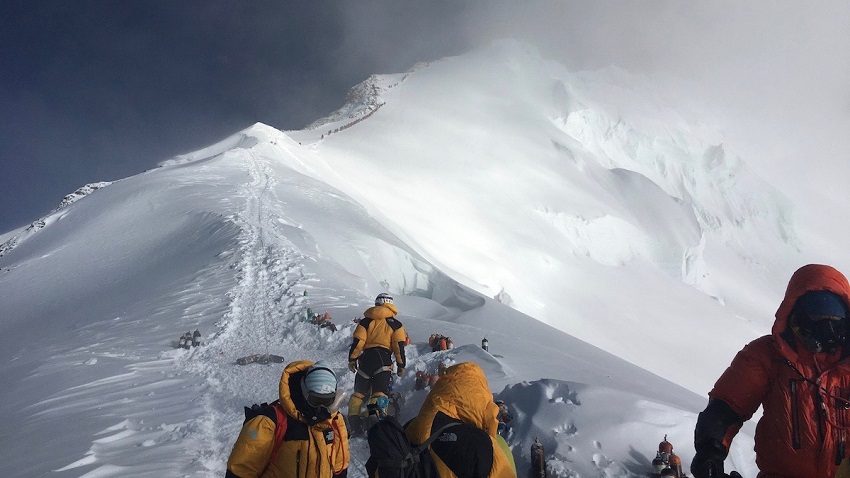 The science is in from an ambitious interdisciplinary expedition to Mt Everest – and the results are appropriately chilling.
From April to June 2019, 10 teams of researchers with backgrounds in glaciology, geology, meteorology, biology and mapping took part in the National Geographic and Rolex Perpetual Planet Everest Expedition, with the shared aim of understanding how human activity has impacted the highest part of the planet.
The early results, published as a series of papers in the journal One Earth, span plastic pollution, glacial losses, precipitation changes and more.
This was the largest scientific expedition ever conducted on Mt Everest, and one paper is solely dedicated to describing its incredible logistics, from designing an inflatable raft to take samples from alpine lakes to mapping routes involving more than six different modes of transport and coordinating local supplies and the knowledge of high-altitude Sherpas.
So, after this epic expedition, what did they find?
Climate on the Roof of the World
As the climate changes, mountainous environments are being hit hard. Glaciers in these ecosystems store and supply water for more than a quarter of the global population, including 50% of the biodiversity centres on Earth, so it's important to predict how rapidly they are being impacted.
"These high mountain regions are changing faster than other places around the world," says Baker Perry, climate scientist from Appalachian State University, US. "Everest is one of the most extreme environments on the planet, and no one has ever fully quantified the climate conditions up there."
Perry's team installed a network of weather stations – including the highest in the world at 8430 metres – to continually monitor the Mt Everest region. Their first paper discusses the importance of precipitation to the ecosystem.
"Changing precipitation patterns have direct impacts on glacier behaviour, local communities, and downstream populations," Perry and colleagues write.
"High-quality observations of precipitation at the highest elevations of the world's water towers are critical for meeting the challenge of quantifying future availability of water resources for billions of people."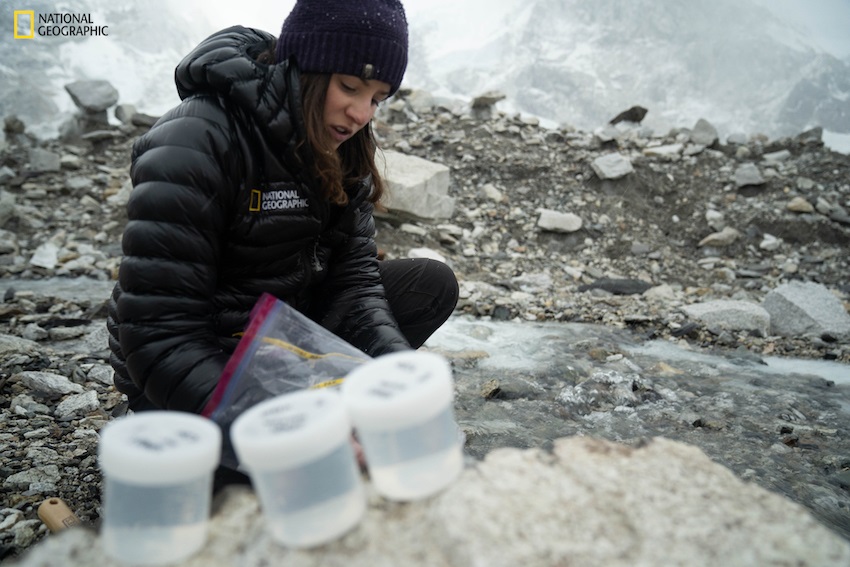 Meanwhile, other teams drilled into glaciers to sample ice cores, setting the record for the highest ice core ever collected at 8020 metres above sea level – a full 1000 metres higher than the previous record.
Layer by layer through time, ice cores capture past temperature, precipitation, storm patterns and biological productivity. This will help us track how the mountain environment has changed over time, including local climate change and the volume loss of the glaciers.
"Glaciers don't lie," says Paul Mayewski, expedition leader and climate scientist at the University of Maine, US. "The size they are is a consequence of their environment, and the things that are captured in them – they are the truth."
The mapping team also looked at glaciers from a different perspective, comparing 56 years of satellite images of Mt Everest and the surrounding glacial valleys.
Their results show that not only have these glaciers thinned by more than 100 metres since the 1960s, but the rate of loss has consistently accelerated over this time. Ice is now also being lost at extreme altitudes above 6000 metres.
"Accurate, long-term measurements of ice-loss rates are vital if we are to understand the impact of glacier recession on local and regional hydrology," the researchers – led by Owen King at the University of St Andrews – write in their paper.
This is critical, they say, because "meltwater from Himalaya glaciers sustains the flow of rivers that are heavily depended on by downstream communities across the densely populated region of Southeast Asia" – where more than 230 million people live.
"Climate change is the most important security issue of the 21st century," says Mayewski. "It's not just a change in temperature – it's a change in precipitation, flooding, storm patterns, air quality, water quality…
"My biggest hope for this expedition is that what we find here will awaken people even more to the importance of climate change."
Microplastics in the Death Zone
Another research team also reported microplastics at the highest recorded altitudes on Earth, from samples taken at the Balcony of Mt Everest at 8440 metres above sea level.
Further samples collected both on the mountain and in the valley below reveal significant amounts of plastic-based materials, including polyester, acrylic, nylon and polypropylene fibres – all used to make high-performance outdoor clothing and equipment.
"Mt Everest has been described as the world's highest junkyard," says lead author Imogen Napper from the University of Plymouth, UK. "Microplastics haven't been studied on the mountain before, but they're generally just as persistent and typically more difficult to remove than larger items of debris."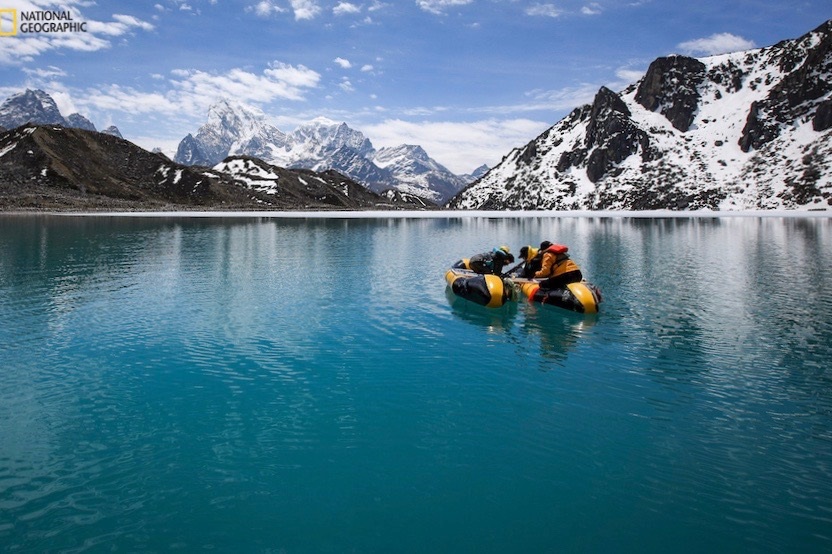 Their study, again published in One Earth, describes how microplastics were found in every sample analysed.
The samples were gathered across many environments and altitudes, from high-elevation streams in the Death Zone near the mountain's summit to snow from Everest Base Camp to streams running down to valleys below. Perhaps unsurprisingly, Base Camp contained the highest proportion of microplastics, at 79 microplastic fibres per litre of snow.
Visitors to Mt Everest and its surrounding national park have grown exponentially over the past 70 years, in parallel with the growth of global plastic use – from five million tonnes annually in the 1950s to over 330 million tonnes in 2020.
The researchers suggest that we need to rethink our relationship with plastics, including redesigning fabrics to have the benefits of plastics without the lasting and harmful environmental effects.
"Microplastics have been discovered from the depths of the ocean all the way to the highest mountain on Earth," Napper says. "With microplastics so ubiquitous in our environment, it's time to focus on informing appropriate environmental solutions. We need to protect and care for our planet."
The science continues
Other teams also have published early results, including the fact the oxygen available at the summit will increase as rising temperatures increase the air pressure – ironically making it easier for humans to breathe at altitude.
The biology team, on the other hand, undertook a comprehensive biodiversity survey of the region around Everest, documenting how species – from plants to animals to insects – are moving up in altitude as temperatures warm.
Further papers will follow about such species abundance and distribution, as well as other aspects of the expedition including the behaviour of major atmospheric circulation systems, temperature changes, the future of water availability, the risks of glacier decay, and more.
"Mountains will outlast us," write the editors of One Earth in an introduction to this special edition of the journal. "But without immediate action and integrated approaches to adaptation and sustainable development, they will lose their majesty. They will become diminished – with consequences for us all."
Read science facts, not fiction...
There's never been a more important time to explain the facts, cherish evidence-based knowledge and to showcase the latest scientific, technological and engineering breakthroughs. Cosmos is published by The Royal Institution of Australia, a charity dedicated to connecting people with the world of science. Financial contributions, however big or small, help us provide access to trusted science information at a time when the world needs it most. Please support us by making a donation or purchasing a subscription today.
Make a donation